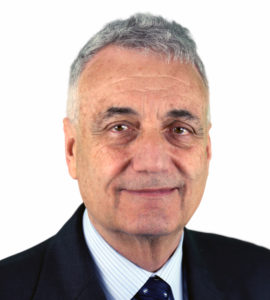 Dr. Peter Ackerman is the Founding Chair of ICNC, and one of the world's leading authorities on nonviolent conflict. He holds a Ph.D. from The Fletcher School, Tufts University, and is also co-author of two seminal books on nonviolent resistance, A Force More Powerful: A Century of Nonviolent Conflict (Palgrave/St. Martin's Press, 2001) and Strategic Nonviolent Conflict: The Dynamics of People Power in the Twentieth Century (Praeger, 1994).
Dr. Ackerman was the Executive Producer of the PBS-TV documentary, "Bringing Down a Dictator", on the fall of Serbian dictator Slobodan Milosevic. It received a 2003 Peabody Award and the 2002 ABC News VideoSource Award of the International Documentary Association. It aired in the U.S. in March 2002, and subsequently in Australia, Canada, the Netherlands, Portugal, Serbia/Montenegro, Spain, Sweden and Taiwan.
He was also the Series Editor and Principal Content Advisor for the two-part Emmy-no minated PBS-TV series, "A Force More Powerful" which charts the history of civilian-based resistance in the 20th century, including Gandhi's campaigns for Indian independence, Danish resistance to German occupation in World War II, the U.S. civil rights movement, the rise of Solidarity in Poland, the people's movement against Gen. Augusto Pinochet in Chile, and the dismantling of South Africa's apartheid system. It premiered in the U.S. in September 2000, and subsequently in Australia, Brazil, Canada, Denmark, Finland, Iran (via satellite), New Zealand, Norway, Palestinian Territories, Spain, Sweden, Venezuela, and more than 60 other countries. Both "Bringing Down a Dictator" and "A Force More Powerful" have been translated into Arabic, Burmese, Farsi, French, Indonesian, Mandarin, Russian and Spanish, and been distributed for broadcast or seen on DVD in as many countries.
Dr. Ackerman has spoken often in public, on television and radio, including BBC, CNN, CBC (Canada), Fox News, and National Public Radio. He has published op-eds and articles, in such publications as the Christian Science Monitor, Harvard International Review, International Herald Tribune, Sojourners Magazine, and Le Monde. He has been cited in The Economist, The Nation, The New Republic, New York Times, Philadelphia Inquirer, Wall Street Journal, Washington Post, and U.S. News and World Report.
In addition, Dr. Ackerman serves as co-chair of the International Advisory Committee of the United States Institute of Peace. He also serves on the Executive Committee of the Board of the Atlantic Council and is a member of the United States Paralympic Advisory Committee.
Dr. Ackerman also served on the boards of CARE and the Council of Foreign Relations. He was for 15 years chairman of The Fletcher School Board of Overseers.