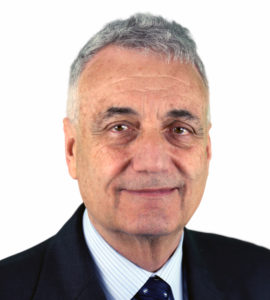 Dr. Peter Ackerman was the Founding Chair of ICNC and one of the world's leading authorities on nonviolent conflict. He is the author or co-author of several key publications on nonviolent resistance: The Checklist to End Tyranny: How Dissidents Will Win 21st Century Civil Resistance Campaigns (ICNC Press, 2021); Preventing Mass Atrocities: From a Responsibility to Protect (RtoP) to a Right to Assist (RtoA) (ICNC Press, 2019); A Force More Powerful: A Century of Nonviolent Conflict (Palgrave/St. Martin's Press, 2001), and Strategic Nonviolent Conflict: The Dynamics of People Power in the Twentieth Century (Praeger, 1994).
In addition to his writing and research, Dr. Ackerman supported the development of five documentary films related to civil resistance and transitional justice. He was Executive Producer of the film, Bringing Down a Dictator, on the fall of Serbian dictator Slobodan Milosevic. It received a 2003 Peabody Award and the 2002 ABC News VideoSource Award of the International Documentary Association. It aired in the US in March 2002, and subsequently in Australia, Canada, the Netherlands, Portugal, Serbia/Montenegro, Spain, Sweden and Taiwan.
He was Series Editor and Principal Content Advisor for the two-part Emmy-nominated PBS-TV series, A Force More Powerful, which charts the history of civilian-based resistance in the 20th century, including Gandhi's campaigns for Indian independence, Danish resistance to German occupation in World War II, the US civil rights movement, the rise of Solidarity in Poland, the people's movement against Gen. Augusto Pinochet in Chile, and the dismantling of South Africa's apartheid system. A Force More Powerful premiered in the US in September 2000, and subsequently in Australia, Brazil, Canada, Denmark, Finland, Iran (via satellite), New Zealand, Norway, Palestinian Territories, Spain, Sweden, Venezuela, and more than 60 other countries.
He also was Executive Producer of the award-winning 2007 documentary Orange Revolution, on the successful resistance to electoral fraud in Ukraine in 2004–2005; Confronting the Truth, about truth and reconciliation commissions; and Egypt: Revolution Interrupted?, focusing on civil resistance for democracy in Egypt.
In total, these films have been translated into more than 30 languages, including Arabic, Burmese, Farsi, French, Indonesian, Mandarin, Russian and Spanish, and have been seen in over 80 countries.
Dr. Ackerman spoke often in public, on television and radio, including BBC, CNN, CBC (Canada), Fox News, and National Public Radio. He has published op-eds and articles, in such publications as the Christian Science Monitor, Harvard International Review, International Herald Tribune, Sojourners Magazine, and Le Monde. He has been cited in The Economist, The Nation, The New Republic, New York Times, Philadelphia Inquirer, Wall Street Journal, Washington Post, and US News and World Report.
In addition, Dr. Ackerman served as Chairman of the Board of Trustees of Freedom House; as co-chair of the International Advisory Committee of the United States Institute of Peace; on the Executive Committee of the Board of the Atlantic Council; on the Advisory Board for America Abroad Media; and was a member of the US Paralympic Advisory Committee to the US Olympic Committee. He also served on the boards of CARE and the Council of Foreign Relations.
Dr. Ackerman held a PhD in International Relations from The Fletcher School of Law and Diplomacy, Tufts University, and for 15 years was chairman of The Fletcher School Board of Overseers.