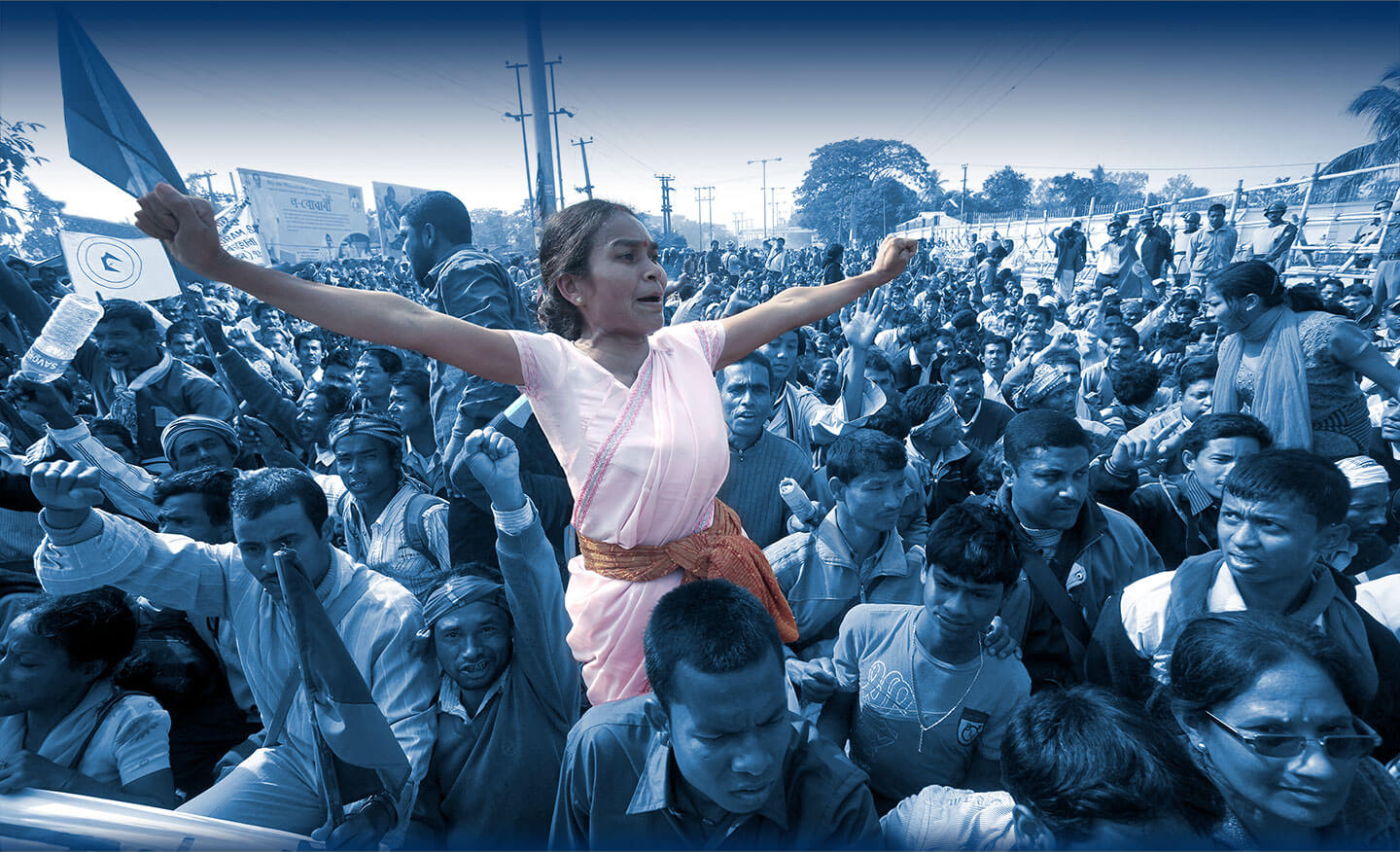 ICNC focuses on how ordinary people wage nonviolent conflict to win rights, freedom and justice.
New Publication:

We Need People Power to Address a World in Peril is the framing essay for the 2023 Copenhagen People Power Conference.

It outlines the three interrelated crises of rising authoritarianism, climate change, and violent conflict and articulates the essential role that popular nonviolent movements play in addressing each of them.

Download a free copy and sign up to watch conference sessions online on September 28-29, 2023.

Download a Free Copy

New Publication:

Fostering a Fourth Democratic Wave: A Playbook for Countering the Authoritarian Threat combines insights on civil resistance, democratic waves, autocratization, democratic backsliding, international law, and other disciplines to advance a foreign policy approach that supports and enables pro-democracy and human rights movements.

Watch the promotional video and download the publication:

Download a Free Copy

Project Highlight:
The Civil Resistance Funders Initiative

The Civil Resistance Funders Initiative fosters coordination and sharing of best practices in philanthropic support for movements for human rights, freedom, and justice.

Drawing on insights from practitioners and scholars, a key deliverable will be a new 2024 publication, tentatively titled: Turning the Tide on Authoritarianism: A Funder's Guide to Supporting Civil Resistance.

The project is led by ICNC president and principal investigator Hardy Merriman, in collaboration with ICNC executive director Ivan Marovic, and is made possible with the generous support of Humanity United.

Learn More

ICNC Webinar on Prison Hunger Strikes

How do prison hunger strikers achieve demands? How do they stay connected with the outside world in a space that is designed to cut them off from that world? And why would a prisoner put their lives at risk by refusing to eat or, at times, drink? This research shows that sometimes prisoners' need for dignity and freedom trump their hunger pangs and thirst. Watch the video recording and download the PDF.

Download the Monograph
For Activists & Organizers

How Agent Provocateurs Harm Our Movements

by Steve Chase

History shows us that peoples' movements are more likely to suc­ceed when they have unity among supporters, widespread participa­tion, strategic planning, and non­violent discipline. Unsurprisingly, movement opponents use agent provocateurs—fake activists work­ing undercover—to behave in counterproductive ways that undermine these four keys to success.

Drawing from international exam­ples, and an in-depth case study of the US Black Liberation Movement, this volume explores how agent provocateurs—and agent provoca­teur-like behavior—make movements smaller, weaker, and easier to de­feat. It also offers some ideas for how activists can inoculate their movements against such harms and increase their chances of success.

• Download

• Purchase

• Watch the webinar presentation by the author

Learn More

Second edition of :

The Path of Most Resistance: A Step-by-Step Guide to Planning Nonviolent Campaigns

by Ivan Marovic

The Path of Most Resistance: A Step-by-Step Guide to Planning Nonviolent Campaigns is a practical guide for activists and organizers of all levels, who wish to grow their resistance activities into a more strategic, fixed-term campaign. It guides readers through the campaign planning process, breaking it down into several steps and providing tools and exercises for each step.

The Second Edition released in March 2021 includes chapters on tactics and running a tactical planning workshop, and a Foreword by Hardy Merriman.

Free Download:
• Second edition: English
• First edition: Catalan | French | Polish | Portuguese (Brazilian) | Spanish | Urdu

Learn More

Visit our full resource library to find hundreds of resources on civil resistance in English and over 70 languages.

Or, if you are interested in civil resistance and don't know where to start, we've made a list of general introductory resources–many of them short articles–to introduce you to the field. See our list of ten key resources for activists and organizers.

Visit the Resource Library

ICNC Translations Program

Translating civil resistance literature into diverse languages is one of the most powerful ways to spread knowledge and increase the effectiveness of nonviolent movements struggling for rights, freedom, and justice. Learn more about our translations program or read our glossary of key terms.

We also currently host resources on civil resistance in over 70 languages and dialects on our website.

Find Translated Resources
For Scholars & Students

The discipline of civil resistance has developed enormously in recent years, driven by new quantitative and qualitative scholarly research, as well as by numerous nonviolent movements around the world.

ICNC runs a number of grant-supported academic and educational programs to meet the growing demand for cutting edge research, applied knowledge and practical skills in this field. Look at our research, writing, teaching and other educational offerings and review current calls for proposals or applications.

Learn More

Academic Online Curriculum

ICNC's Academic Online Curriculum on Civil Resistance (AOC) is an online resource to advance curriculum development, teaching, and research on civil resistance. It offers an extensive and regularly updated set of resources in this field, organized into clearly structured topics and case studies, and drawn in part from content that we and various academic collaborators developed for the ICNC university seminars we've led since 2009.

Anyone can register to use the AOC at any time and it is free to use.

Topics on the AOC include:

– Civil Resistance: Nature, Ideas and History
– Strategic Considerations in Civil Resistance Struggles
– Types of Civil Resistance Struggles

And more!

Register Now!

Calls from ICNC Academic Initiatives

Throughout the year, ICNC is offering a number of academic opportunities, resources, and support that it  makes available to scholars and students. The field of civil resistance has grown immensely and these academic programs aim to respond to the growing demand for knowledge and skills and contribute to expanding the quality of education, research, and curriculum related to civil resistance. This page includes the current and past calls for the ICNC's educational and research programs, such as learning opportunities, curriculum support, and research grants.

One of our calls, the Rapid Field Research and Data Collection Program, accepts applications on a rolling basis and interested applicants can apply for the program throughout the year.

Learn More

New from ICNC Press:

Preventing Mass Atrocities: From a Responsibility to Protect (RtoP) to a Right to Assist (RtoA) Campaigns of Civil Resistance
by Peter Ackerman and Hardy Merriman
Available in: English, Arabic, and Spanish

Events of the last decade demand new approaches to atrocity prevention that are adaptable, innovative and independent of a state-centered doctrine. With the aim of reducing risk factors such as civil war, we argue for a new normative framework called The Right to Assist (RtoA). […]

See ICNC Press Publications
For the Policy Community

New Publication:

Fostering a Fourth Democratic Wave:
A Playbook for Countering the Authoritarian Threat

Fostering a Fourth Democratic Wave combines insights on civil resistance, democratic waves, autocratization and democratic backsliding, international law, and other disciplines to advance a foreign policy approach that supports and enables pro-democracy and human rights movements. It:

1. Proposes new approaches and tools to support civil resistance movements

2. Advances a new international norm — the "Right to Assistance"

3. Develops strategic and tactical options to constrain authoritarian regimes and drive up the cost of their repression

Download a Free Copy

ICNC Releases Major Study on International Support to Nonviolent Campaigns

ICNC is proud to present the newest addition to its popular Monograph Series, The Role of External Support in Nonviolent Campaigns: Poisoned Chalice or Holy Grail? by Drs. Erica Chenoweth and Maria J. Stephan, authors of the groundbreaking civil resistance classic, Why Civil Resistance Works.

Published by ICNC Press, this new report employs original, qualitative, and quantitative data to examine the ways that external assistance impacted the characteristics and success rates of post-2000 revolutionary nonviolent uprisings.

Download the full monograph for free here.

Watch the March 3 webinar with the renowned authors here.

Read More
Minds of the Movement Blog

Minds of the Movement is a blog for those interested in the ideas and experiences of people on the front line of civil resistance, and those who seek to understand the art and science of nonviolent struggle.

Learn More

NEW BLOG POST

Tenzin Jigdal and Amber French write: "Tibetans, like other liberation struggles with a diaspora component, have one foot in and one foot out. Some movement actors—the diaspora and the government-in-exile—can exert pressure on the occupier from the outside. "That's our domain, so there is pressure coming from all sides. We [MPs] are all united that we should find ways to restore freedom", Jigdal explains to my students. On the other hand, the occupied population can exercise pressure on the occupier from the inside—if empowered to do so. […]

Read more!

Nico Plooijer writes: "'It is like some diplomats only see instability when bombs fall on a presidential palace. But we Sudanese have suffered instability for over 30 years under a dictatorship…'

Last May, I helped organize a round table discussion at the annual SIPRI Forum on Peace and Development in Stockholm, Sweden. At one point, the current war in Sudan came to the fore, suggesting a general misunderstanding about nonviolent movements for rights, justice and freedom among some discussion participants. […]"

Read more!

Steward Muhindo Kalyamughuma writes: "The citizen movement LUCHA was founded in 2012 by young Congolese frustrated by the dramatic situation in their country. LUCHA pursued nonviolent resistance to inform citizens and fuel their outrage, as well as to hold those in power more responsible and accountable. One of the tools they use is called Fatshimétrie, a barometer for assessing the level of fulfilment of commitments and promises made by the head of state to transform the DRC. […]"

Read more!