By Ivan Marovic
Date of Publication: First edition, 2018 | Second edition, 2021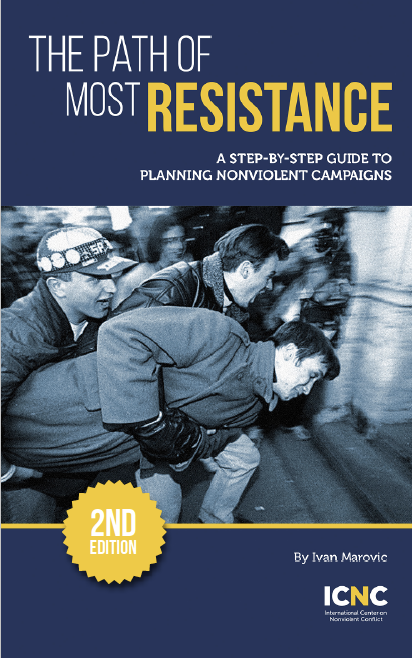 Free Download:
• Second edition: English | Farsi | Hungarian | Polish | Vietnamese
• First edition: Catalan | French | Portuguese (Brazilian) | Spanish | Urdu
Purchase a Print Copy:
• Second edition: English
• First edition: French | Portuguese (Brazilian) | Spanish
Purchase e-book (Nook | Kindle)
The Path of Most Resistance: A Step-by-Step Guide to Planning Nonviolent Campaigns is a practical guide for activists and organizers of all levels, who wish to grow their resistance activities into a more strategic, fixed-term campaign. It guides readers through the campaign planning process, breaking it down into several steps and providing tools and exercises for each step. Upon finishing the book, readers will have what they need to guide their peers through the process of planning a campaign. This process, as laid out in the guide, is estimated to take about 12 hours from start to finish.
The guide is divided into two parts. The first lays out and contextualizes campaign planning tools and their objectives. It also explains the logic behind these tools, and how they can be modified to better suit a particular group's context. The second part provides easily reproducible and shareable lesson plans for using each of those tools, as well as explores how to embed the tools in the wider planning process.
The Second Edition released in March 2021 includes chapters on tactics and running a tactical planning workshop, and an Introduction by Hardy Merriman.
About the Author:
Ivan Marovic was one of the leaders of Otpor, the student resistance movement that played an important role in the downfall of Slobodan Milosevic in Serbia.
After the successful democratic transition in Serbia, Marovic began consulting with various pro-democracy groups worldwide and became one of the leading practitioners in the field of strategic nonviolent conflict.
What People Are Saying About the Book:
"Earlier this year, I had a webinar about social movements at Rhize, and Ivan was our lecturer. Check out his book about organizing resistance. Download is free today. Maybe you can start a campaign – it takes 12 h to plan one following these methods. #MakeChangeNow"
– Lu Yen Roloff, public Facebook post, October 25, 2018
"Downloaded my free copy yesterday. It's a VERY thorough book on how to plan a nonviolent civil resistance campaign. It's clear that an enormous amount of work went into writing & illustrating it."
– Joel Preston Smith, Twitter, October 26, 2018
"I'm really happy to share Ivan Marovic new and free monograph on civil resistance from @civilresistance. Ivan is one of the best and most [strategically] innovative civil resistance activists and trainers I have had the honor of working with over the years."
– Søren Warburg, Twitter, November 5, 2018