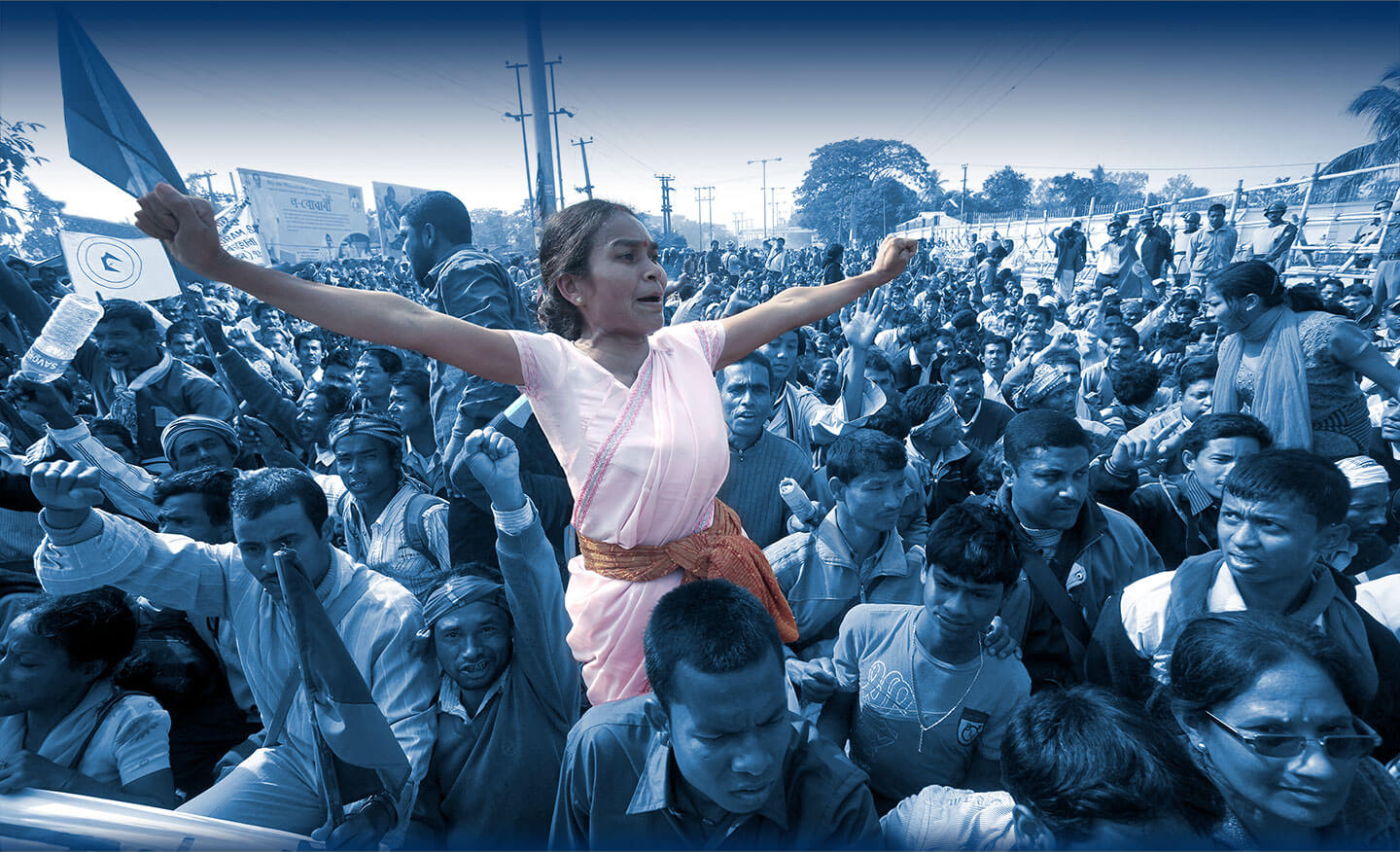 In Loving Memory of Peter Ackerman


The International Center on Nonviolent Conflict (ICNC) mourns the loss of Dr. Peter Ackerman, ICNC's Founding Chair, who died on April 26, 2022.

Peter was a visionary in the field of civil resistance, earning his PhD in 1976 from the Fletcher School of Law and Diplomacy. His dissertation, titled "Strategic Aspects of Nonviolent Resistance Movements," focused on a topic that would animate his work in this field for over forty years….

Read More

The Checklist to End Tyranny

by Peter Ackerman

The Checklist to End Tyranny enables dissidents to become more strategic in their thinking and more skillful in their quest to win civil resistance campaigns in the 21st century.

Over a century of data shows that civil resistance campaigns—employing strikes, boycotts, mass protests, and many other nonviolent tactics—are the most powerful means for societies to confront authoritarians and achieve democracy and human rights.

If the world is to have a Fourth Democratic Wave expanding freedom over oppression, then pro-democracy activists waging civil resistance campaigns will lead the way.

• Download

• Request a complimentary copy

Learn More

New Project:

Fostering a Fourth Democratic Wave

Fostering a Fourth Democratic Wave is a joint project between the Atlantic Council and ICNC, aimed at catalyzing support for nonviolent pro-democracy movements fighting against authoritarian rule.

The project recognizes that civil resistance movements are one of the most powerful forces for democracy worldwide and therefore central to reversing the last fifteen years of democratic recession. It will result in a publication titled Defeating the Authoritarian Threat: A Playbook for Democratic Resurgence that centers on steps the United States and its allies can take to support these movements. The Playbook will:

1. Propose new approaches and tools to support pro-democracy civil resistance movements.

2. Advance a new international norm — the "Right to Assist" pro-democracy movements — and identify steps to advance and implement it.

3. Develop strategic and tactical options to constrain authoritarian regimes and drive up the cost of their repression.

Learn More

The Civil Resistance Funders Initiative

Civil resistance movements consist of people exercising their internationally recognized human rights. International advocacy organizations and philanthropies can play a leading role in supporting them.

To foster coordination and sharing of best practices in this work, we launched the Civil Resistance Funders Initiative, led by ICNC Senior Advisor Hardy Merriman, with the generous support of Humanity United.

A key output will be a new publication in 2023, tentatively titled: Turning the Tide on Authoritarianism: A Funder's Guide to Supporting Civil Resistance.

This project draws on leading insights from practitioners and scholars, engaging movement-centered funders and INGOs as well as movement-oriented grantees, to develop a comprehensive resource for funders and international advocacy organizations.

Learn More
For Activists & Organizers

How Agent Provocateurs Harm Our Movements

by Steve Chase

History shows us that peoples' movements are more likely to suc­ceed when they have unity among supporters, widespread participa­tion, strategic planning, and non­violent discipline. Unsurprisingly, movement opponents use agent provocateurs—fake activists work­ing undercover—to behave in counterproductive ways that undermine these four keys to success.

Drawing from international exam­ples, and an in-depth case study of the US Black Liberation Movement, this volume explores how agent provocateurs—and agent provoca­teur-like behavior—make movements smaller, weaker, and easier to de­feat. It also offers some ideas for how activists can inoculate their movements against such harms and increase their chances of success.

• Download

• Purchase

• Watch the webinar presentation by the author

Learn More

Second edition of :

The Path of Most Resistance: A Step-by-Step Guide to Planning Nonviolent Campaigns

by Ivan Marovic

The Path of Most Resistance: A Step-by-Step Guide to Planning Nonviolent Campaigns is a practical guide for activists and organizers of all levels, who wish to grow their resistance activities into a more strategic, fixed-term campaign. It guides readers through the campaign planning process, breaking it down into several steps and providing tools and exercises for each step.

The Second Edition released in March 2021 includes chapters on tactics and running a tactical planning workshop, and a Foreword by Hardy Merriman.

Free Download:
• Second edition: English
• First edition: Catalan | French | Polish | Portuguese (Brazilian) | Spanish | Urdu

Learn More

Visit our full resource library to find hundreds of resources on civil resistance in English and over 70 languages.

Or, if you are interested in civil resistance and don't know where to start, we've made a list of general introductory resources–many of them short articles–to introduce you to the field. See our list of ten key resources for activists and organizers.

Visit the Resource Library

ICNC Translations Program

Translating civil resistance literature into diverse languages is one of the most powerful ways to spread knowledge and increase the effectiveness of nonviolent movements struggling for rights, freedom, and justice. Learn more about our translations program or read our glossary of key terms.

We also currently host resources on civil resistance in over 70 languages and dialects on our website.

Find Translated Resources
For Scholars & Students

The discipline of civil resistance has developed enormously in recent years, driven by new quantitative and qualitative scholarly research, as well as by numerous nonviolent movements around the world.

ICNC runs a number of grant-supported academic and educational programs to meet the growing demand for cutting edge research, applied knowledge and practical skills in this field. Look at our research, writing, teaching and other educational offerings and review current calls for proposals or applications.

Learn More

Academic Online Curriculum

ICNC's Academic Online Curriculum on Civil Resistance (AOC) is an online resource to advance curriculum development, teaching, and research on civil resistance. It offers an extensive and regularly updated set of resources in this field, organized into clearly structured topics and case studies, and drawn in part from content that we and various academic collaborators developed for the ICNC university seminars we've led since 2009.

Anyone can register to use the AOC at any time and it is free to use.

Topics on the AOC include:

– Civil Resistance: Nature, Ideas and History
– Strategic Considerations in Civil Resistance Struggles
– Types of Civil Resistance Struggles

And more!

Register Now!

Calls from ICNC Academic Initiatives

Throughout the year, ICNC is offering a number of academic opportunities, resources, and support that it  makes available to scholars and students. The field of civil resistance has grown immensely and these academic programs aim to respond to the growing demand for knowledge and skills and contribute to expanding the quality of education, research, and curriculum related to civil resistance. This page includes the current and past calls for the ICNC's educational and research programs, such as learning opportunities, curriculum support, and research grants.

One of our calls, the Rapid Field Research and Data Collection Program, accepts applications on a rolling basis and interested applicants can apply for the program throughout the year.

Learn More

New from ICNC Press:

Preventing Mass Atrocities: From a Responsibility to Protect (RtoP) to a Right to Assist (RtoA) Campaigns of Civil Resistance
by Peter Ackerman and Hardy Merriman
Available in: English, Arabic, and Spanish

Events of the last decade demand new approaches to atrocity prevention that are adaptable, innovative and independent of a state-centered doctrine. With the aim of reducing risk factors such as civil war, we argue for a new normative framework called The Right to Assist (RtoA). […]

See ICNC Press Publications
For the Policy Community

Fostering a Fourth Democratic Wave

Fostering a Fourth Democratic Wave is a joint project between the Atlantic Council and ICNC, aimed at catalyzing support for nonviolent pro-democracy movements fighting against authoritarian rule.

The project recognizes that civil resistance movements are one of the most powerful forces for democracy worldwide and therefore central to reversing the last fifteen years of democratic recession. It will result in a publication titled Defeating the Authoritarian Threat: A Playbook for Democratic Resurgence that centers on steps the United States and its allies can take to support these movements.

Learn More

ICNC Releases Major Study on International Support to Nonviolent Campaigns

ICNC is proud to present the newest addition to its popular Monograph Series, The Role of External Support in Nonviolent Campaigns: Poisoned Chalice or Holy Grail? by Drs. Erica Chenoweth and Maria J. Stephan, authors of the groundbreaking civil resistance classic, Why Civil Resistance Works.

Published by ICNC Press, this new report employs original, qualitative, and quantitative data to examine the ways that external assistance impacted the characteristics and success rates of post-2000 revolutionary nonviolent uprisings.

Download the full monograph for free here.

Watch the March 3 webinar with the renowned authors here.

Read More

From ICNC Press:

Preventing Mass Atrocities: From a Responsbility to Protect (RtoP) to a Right to Assist (RtoA) Campaigns of Civil Resistance
by Peter Ackerman and Hardy Merriman
Available in: English, Arabic, and Spanish

Events of the last decade demand new approaches to atrocity prevention that are adaptable, innovative and independent of a state-centered doctrine. With the aim of reducing risk factors such as civil war, we argue for a new normative framework called The Right to Assist (RtoA)….

Learn More

A Movement-centered Support Model: Consideration for Human Rights Funders and Organizations

ICNC President Hardy Merriman writes: "What makes civil resistance movements effective?  If funders and human rights organizations can identify key factors that answer this question, then their efforts can be oriented towards trying to support the development and growth of those factors. […]"

Learn More
Minds of the Movement Blog

Minds of the Movement is a blog for those interested in the ideas and experiences of people on the front line of civil resistance, and those who seek to understand the art and science of nonviolent struggle.

Learn More

NEW BLOG POST


Hnoung Eain Thin and Amber French write: "The following is a personal narrative shared with ICNC by a pro-democracy organizer who fled Myanmar following the brutal crackdown of anti-coup protests in February 2021. His account comes from the frontlines of the country's decades-long struggle for democracy, which has been punctuated by civil war and brutal repression at the hands of the Tatmadaw. Our contact shares his personal experience with repression but also a message of resilience and solidarity that hopefully resonates with activists living under harsh dictatorships worldwide. […]"

Read more!


Lynette Ong writes: "Today, the Bersih movement continues to be committed to democratization and clean elections in Malaysia. Bersih's actions aim to induce political change not by empowering people to bring down the regime, but instead by improving the integrity of institutions so that the people can legitimately vote the government out of power. The movement has left a legacy in Malaysian politics by promoting civic awareness of the right to vote and a sense of togetherness in a nation with multiracial and multicultural roots. […]"

Read more!


Robyn Gulliver, Kelly Fielding and Winnifred Louis write: "A"In late 2021, Adani Corporation announced the first coal shipment from the freshly dug Carmichael Coal Mine in central Queensland. A five-year blockade encampment, the re-occupation of traditional lands on the minesite by Waddananggu Traditional Owners, and relentless fierce civil resistance by hundreds of activist groups seeking to stop the proposed mega-mine appears to have been a failure. But was it? […]"

Read more!